Accelerating coral reef growth using renewable energy
Accelerating coral reef growth using renewable energy
Over 70% of the world's coastlines are eroding. With 200 million people worldwide reliant on the protection that coral reefs offer, communities and livelihoods are at risk in many habitats around the world. CCell Renewables is a marine engineering company that is combating coastal erosion and enhancing marine ecosystems by restoring and growing new coral reefs on a large scale through the electrolysis of seawater. CCell also uses renewable energy sources such as solar, wind and wave energy to power their reef growing systems. However, renewable energy is inherently unpredictable and delivers widely varying supply voltages which complicates conversion and regulation in the power delivery network.
Customer challenge
Power delivery network challenges
Very wide input voltage range
Long power delivery distance
Precise load voltage regulation
Precise power conversion and regulation of renewable energy
Precise power conversion and regulation of renewable energy
CCell's reef growing system is based on the electrolysis of seawater to deposit calcium carbonate (limestone) on large steel frames which function as anodes and cathodes (electrodes) and give the new reef its early structure. The technique is revolutionary in that instead of hundreds of years, it takes just five years to produce incredibly strong limestone rock on which coral can grow.
Vicor Factorized Power Architecture (FPA) is uniquely suited to managing the wide input voltage derived from renewable energy sources and delivering a precise output voltage required for an optimum electrolysis process, which must be precise. It cannot be too fast or too slow: too slow and nothing will grow, too fast and the limestone will not be tenable.
Solution
Factorized power architecture
High efficiency
Modular and scalable
Postcast
Powering Innovation podcast

CCell Renewables is reversing coastal erosion while enhancing the ocean's natural ecosystems
LISTEN NOW
Factorized Power optimizes regulation and conversion
Faced with a widely varying input voltage specification and the need to tightly regulate the potential difference (electric field) between the electrodes within a 'goldilocks zone' of 1.2V and 4V, to drive a precisely calculated current through the seawater, Vicor recommended its Factorized Power Architecture or FPA. By factorizing the DC-DC function into two modules, a PRM regulator and a VTM current multiplier, the power delivery network can be optimized for regulation and conversion.
The PRM buck-boost regulator operates over a wide input voltage range and has a zero-voltage switching (ZVS) topology, delivering very high efficiency, power density. In addition, PRMs are easily paralleled for higher power. The VTM is a fixed-ratio (non-regulating) resonant converter with high-current density. Working seamlessly together, the PRM tightly regulates the voltage required for the reef and the VTM handles the down conversion and current delivery to the electrodes.
The power delivery network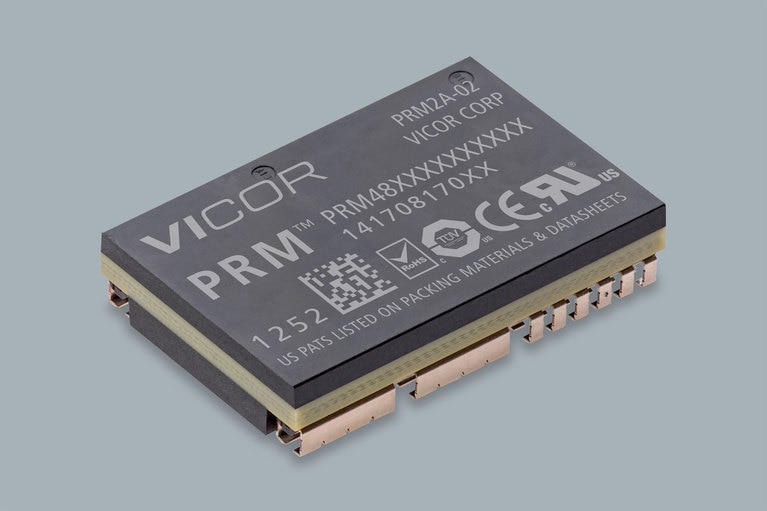 Input: 48V (36 – 75V)
Output: 48V (20 – 55V)
Power: Up to 400W
32.5 x 22 x 6.73mm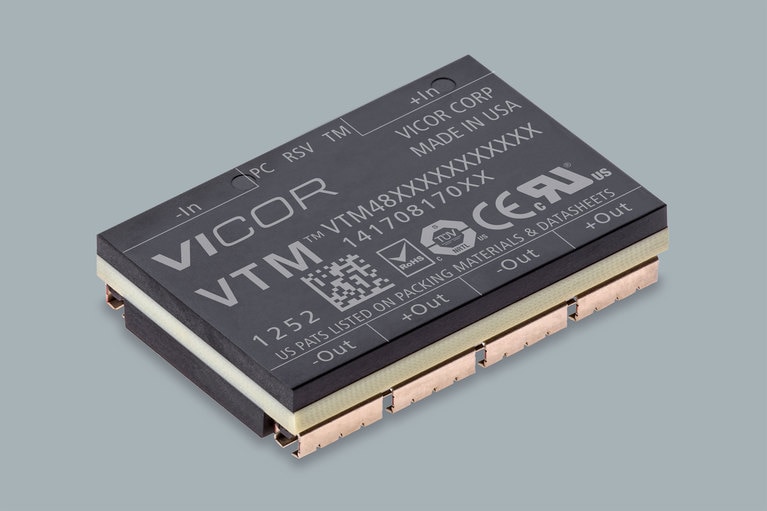 VTM48EF060T040A00
VTM current multiplier
Input: 48V (26 – 55V)
Output: 6V (3.25 – 6.87V)
Current: Up to 40A
32.5 x 22.0 x 6.31mm